Announcing Kabuto Policies – Easily Edit Kabuto Device Settings in Bulk
We just added Policies to Kabuto! Policies are templates for device settings that you can use to set preferences, change upgrades or alter settings in bulk. This new feature also makes onboarding new Devices much easier.
Configure Your Policies and Streamline Your Device Management
Here is the way Policies work. You create a Policy and specify your Device settings, then simply apply that Policy to Devices as you see fit. Afterward, if a Device's settings are changed individually, the policy is removed from the Device. If the Policy is updated at any point, that change is applied to all Devices under that Policy.

Note: Customers have a Default Device Policy that you can set as well. If you change the Customer Default Device Policy, it will only take effect on any new devices added to that Customer.
Here is What Creating and Editing a Policy Looks Like:
The beauty of Policies is that you can build them for specific subscription plans and streamline your customer onboarding.
For example, you could make a Policy for a subscription plan that includes both Monitoring and Managed Antivirus. Then, you can configure the settings such as scan schedule, surf protection settings, notification preferences, etc. Once you're happy with how you have it set up, it will be saved and you're free to assign that Policy to a single device, many Devices, or a particular customer, and all the settings will be applied.
You can also use Policies to make a bulk change to specific customer settings. For example, to ensure you aren't notifying your Customers too much, you could create a Policy that sets most of the Kabuto notifications to be silent. Then you simply apply that Policy in bulk to the desired Customers, instead of having to deal with each Customer's preferences individually.
Here you can see different Policies applied to Customers:


Changing the Default Device Policy for a Customer: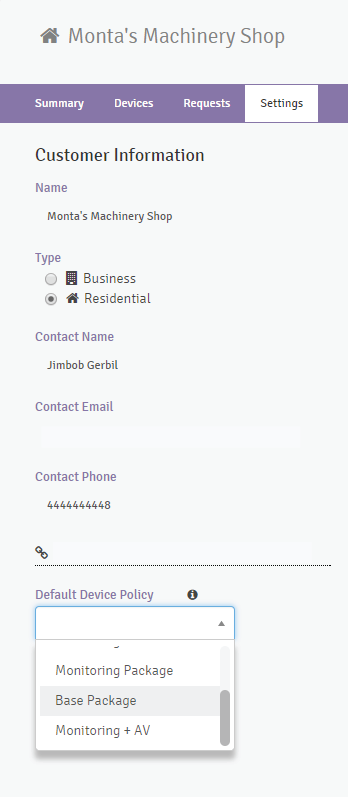 Click here for additional Documentation about Policies
Thanks to all the Kabuto users out there who provided the feedback to make Policies a reality! Cheers!
Do you have questions, feedback, or ideas? Get in touch at support@repairtechsolutions.com