For the past year, we've been toiling behind the scenes to bring you the all new TechSuite. Today, we're proud to announce that it's finally ready for you to use.
The all new TechSuite is the result of gathering tons of feedback, extensive talks with technicians, and really learning how techs use our software in the field. Before we get into it, we want to say thanks for your ideas and support.

There are a lot of exciting changes so let's get into the details!
Better Automation and Tooling
We've partnered with the best software vendors in the industry to bring you industry-leading tools, deeper automation and reporting, and a more integrated experience. We've removed any tools you weren't using, and replaced many of the ones you were with superior alternatives. Every tool is completely automated, and our reporting from each tool is more intelligent and actionable.

The new TechSuite is more focused on running pre-defined lists of tools, rather than individual ones. To achieve this, the main design for TechSuite has been built around our repair presets, now called "Procedures". To build these Procedures, we took a hard look at the services techs are offering, and the tools they use most within these services.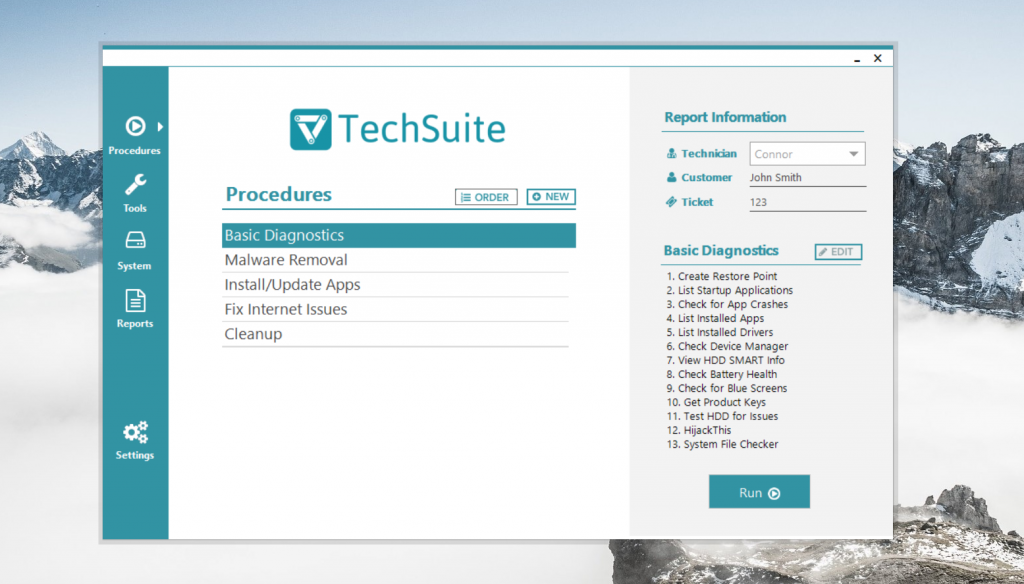 From our research, we also learned that TechSuite's massive tool list was difficult to get started with, so we created a new feature called "Tool Modes". Modes make it so we can show you less tool names, while enabling you to have the same repair coverage with more configurability.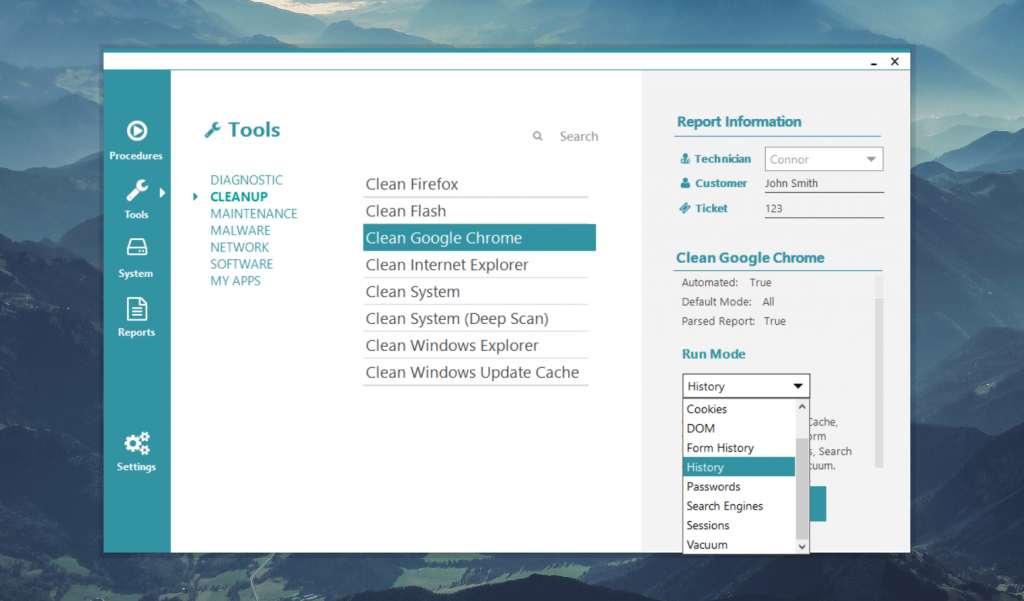 Parsed Reports
Techs from all over the world love TechSuite's Reports because they help communicate the work done and the status of the machine. However, that's about all our old reports could do.  

Today we're launching what we are calling "Parsed Reports". Techs will find three important differences.

Intelligent Report Summaries, Not Logs


Reports will now intelligently summarize output from tools. This means that the standard output from tools that could be thousands of lines will be summarized down to the essential information required. Of course, the full output can still be accessed as needed.

Insights


In addition to software, we know techs rely on experience and intuition to figure out and solve issues. We've taken some of that wisdom and built it directly into TechSuite.





Now, right after a repair completes, TechSuite will dig deep into the OS and look for common issues and report back what it found. We call this feature "Insights" and it helps techs more quickly and easily be alerted to common issues the machine may experience.

 

High-Level Summaries from the Whole Repair
Techs have told us that the easiest way to build trust and show value to customers is to quickly help them understand what happened during the repair from a high level. We're now building that type of communication straight into the reports to show customers valuable information such as "14 Virus Threats Removed" or "18.7 GB of space recovered". This means that we're aggregating all of the results from the tools you ran, and intelligently adding it together to create one summary.


Faster Updates from Our Dev Team

TechSuite is now based on the newest available technologies in Windows and has been completely rewritten to achieve two things: A much faster development process, and greater reliability.

We've moved a lot of the TechSuite's functionality to our Online Dashboard's API. . This enables us to update tools, definitions, tool modes, report templates, procedure lists, etc. remotely and at a moment's notice, without releasing an update for the Windows App. Now you'll get patches and updates faster than ever. During the open beta, we were often able to add new tools and update other definitions the same day we heard about it.

TechSuite is Far More Stable and Reliable

We greatly improved upon the reliability of TechSuite. Gone are the days when TechSuite might lock up as "Not responding" or even need to be reset (just writing that prompted swift and shameful facepalms to the face). All of these issues have been solved through a smarter foundation for design and development.
Fluid Interface

We've dramatically redesigned the user interface for TechSuite to focus much more on the main purpose, running tools. TechSuite now emphasizes two main actions: running a Procedures, and running a single Tool.

We spent serious time talking with technicians and looking at typical usage to inform this new layout and we think it's a big upgrade. With one click you can now run the Procedures instead of grappling with extra menus and selections. Need to quickly run that favorite tool to finish things up? That's faster too. We're sure you're going to love it.
TechSuite Terminology – RIP TechWARU, TechUSB, TechPortal
TechSuite now is composed of the TechSuite Windows App, the TechSuite Bootable Utility, and the TechSuite Online Dashboard. We hope this simpler naming convention will be less confusing and easier to pronounce.

Both the TechSuite Bootable Utility and the TechSuite Online Dashboard are receiving a visual update.

The TechSuite Bootable Utility will also now support UEFI booting and a much more stable OS.

A Huge Thanks from The RepairTech Team

We've improved and adjusted TechSuite tremendously over the past several months and we couldn't have done it without your help! Thank you to all of our dedicated beta testers and other friends who helped us along the way!
Moving Forward – Keep Giving Us Feedback!

Although we're proud to announce this release, it doesn't mean we're slowing down. We've changed so much about this design that there will almost certainly be little things that need tweaking, improvements or redesigns.

Are we missing something you need? Does TechSuite not fit a use case that it should? No worries! Please let us know what you think and we'll get improvements out to you faster than ever.
Get in touch at support@repairtechsolutions.com
Cheers!
RepairTech