Kaseya, N-Able, Labtech, and most other RMM solutions give you an agent that you can run on your clients' computers in order to provide you with remote access. We recently added a feature that allows you to upload any linux-compatible executable to TechPortal, and have it run every time TechUSB boots.
How It Works
First you'll need to navigate to the Integrations page on your TechPortal. Scroll down and you'll see the TechUSB logo. From there you can upload your linux executable (usually a shell script  or a 32-bit binary).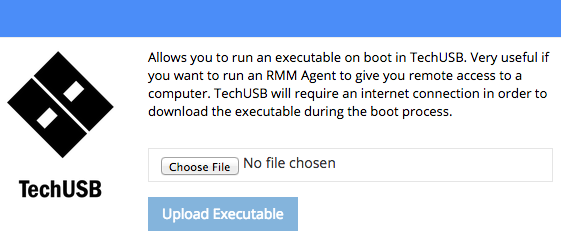 Once the upload is complete, TechUSB will automatically download and run your executable each time TechUSB Automator runs. It is important to note that an Internet connection is required, and therefore we recommend having ethernet plugged into the computer before booting TechUSB.
This simple, but powerful new feature has the potential to prevent you from having to send a tech to a client's premises. If you can leave a few TechUSB drives with your clients and walk them through booting into it over the phone, you can immediately have access to their computer for diagnostics outside of the Host OS. Cool right?
Your feedback is appreciated. You can reach us at support@repairtechsolutions.zendesk.com or by leaving a comment on this post.
Erik Sandberg
CTO & Co-Founder
erik@repairtechsolutions.com