Estimated Release Date: Mid April
Video Walkthrough Release: Next Week (3/23 – 3/27)
What is Project Kabuto? 
We recently announced a new product that we're working on, called Project Kabuto. Through some recent conversations with techs, a feature request was proposed which seemed to be more like a standalone concept rather than an addition we could make to TechSuite. After tossing this new idea around with our team and customers, we got excited and determined that this could be a killer new product for technicians. So, naturally, we sketched some mockups and blasted into a full fledged development effort.
Overview of the App
Project Kabuto is a lightweight application that technicians can use to bring customers back to their repair shop when they have issues. Simply install it on the client's machine after you service their computer, and it will notify them when they encounter issues, and provide your contact information so they can get in touch with you for help.
Why is Kabuto Valuable?
Resell it as a managed service
Increase customer loyalty
Get jobs that wouldn't have come up otherwise
Here is a screenshot of the current UI design: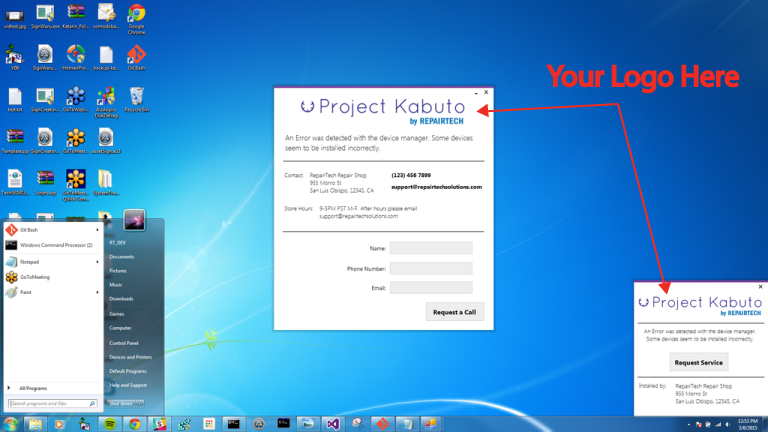 Your customer is shown a message with your contact information if certain events are triggered:
Hard Drive Failure
App Crash
Blue Screen of Death
Disk Fragmentation
Low Disk Space
Missing A / V
Regular Check-Up (ex. "We haven't heard from you in a while, need help with anything?")
Currently, we're blasting through our development schedule and making swift progress. We're actively talking with technicians about new ideas, and we'd absolutely love your thoughts. Feel free to get in touch with us via phone, email or on our forums:
Email: support@repairtechsolutions.com
Forums: http://forum.repairtechsolutions.com/