'Tis the season of giving and in that spirit, we're kicking the holidays off by giving you software updates! Glorious, glorious software updates!
This year, we sent our covert ops team on an assignment to the North Pole…
In the dead of night, our team parachuted onto the arctic tundra and infiltrated Mr. Kringle's frigid base. They quickly found out that Santa's Workshop isn't actually a place filled with good cheer. His toy factory is heavily guarded by a cutting edge weapons defense system. He locked the gingerbread perimeter down with candy cane machine gun turrets and armored polar bears. It was a tough chestnut to crack.
Our team skirted the danger without incident. They navigated around his infrared laser motion sensors, tiptoed through a field of shattered christmas baubles, slinked past Blitzen and the other slumbering reindeer and successfully kidnapped a few of his elves. Yes, we kidnapped some of Santa's elves so they could do our programming for us and get you these updates. We spared no expense.
Alright fine. None of that happened. But the RepairTech Team did a smashing job and built all of this stuff for you! 😉
TechSuite 1.0.2
New Tools!

Emsisoft Commandline
We worked with our friends over at Emsisoft to get you Emsisoft Anti-Malware Commandline version as a part of TechSuite, included at no additional cost! You can now run it through TechSuite to scan for and remove malware.


ProcessHawk by RepairTech

We built a new tool called "ProcessHawk" that scans for unnecessary processes and kills them. It can be run before scanning for malware in order to speed up scanning and get malware processes out of the way.
Diagnose Printer Issues
We've added a new tool called "Diagnose Printer Issues". We built it to scan all available printers and diagnose issues, and clear the printer spool.
New Features!
The "New" button used for creating a new Custom App has been moved to a more visible location. Instead of having to select the "My Apps" category to view the "New" button, you can see the button as soon as you open the Tools page
Browse for Local Apps now supports Zip files. When this feature was first released it could only upload and support single file applications. Now you can browse for Zip files if the Local App you want to use is stored that way.
Updated Default Procedures to include new Tools.
Bug Fixes:
When a tool was run on a version of Windows it was not supported on, the report came up empty. This caused the report to look as though there was a problem running the tool. Now when a tool is run on an OS it doesn't support, it says so in the report.
Added support for Windows Vista machines that have .NET version 4.0 or greater. Previously, tools were not running on Vista because it was not supported.
Windows Defender is no longer part of the AntiVirus warning during the TechSuite startup checks.
Tool reports are no longer written to the debug log. This was causing slowdown during procedure runs and making the debug logs very very big.
Improved error handling: The UI no longer pops an annoying Windows error message when something small goes wrong in the app.
We're now automatically collecting error information when something goes wrong in the app. This should lead to faster fixes, and you we'll need less debug logs.
Kabuto 1.2.9
You can now pick your own style colors for Kabuto via the Kabuto online dashboard.
Added a new uninstall code form that prompts your client with a code entry in order to uninstall Kabuto from the client machine. Uninstall code can be found on the Kabuto online dashboard.
Fixed a pesky issue causing Emsisoft Anti-Malware to show expired key.
Fixed a windows patch management bug that caused the update schedule to not get set properly.
Instant Housecall Integration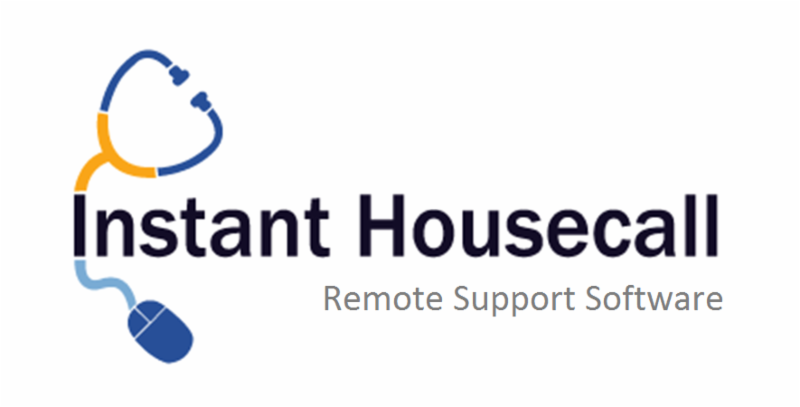 You can now use TechSuite as a built-in part of Instant Housecall! Simply head over to your IHC Admin Dashboard, and enter your TechSuite credentials to get started. Once you're in a remote session, it will show up under the "Auto PC Repair" taskbar menu.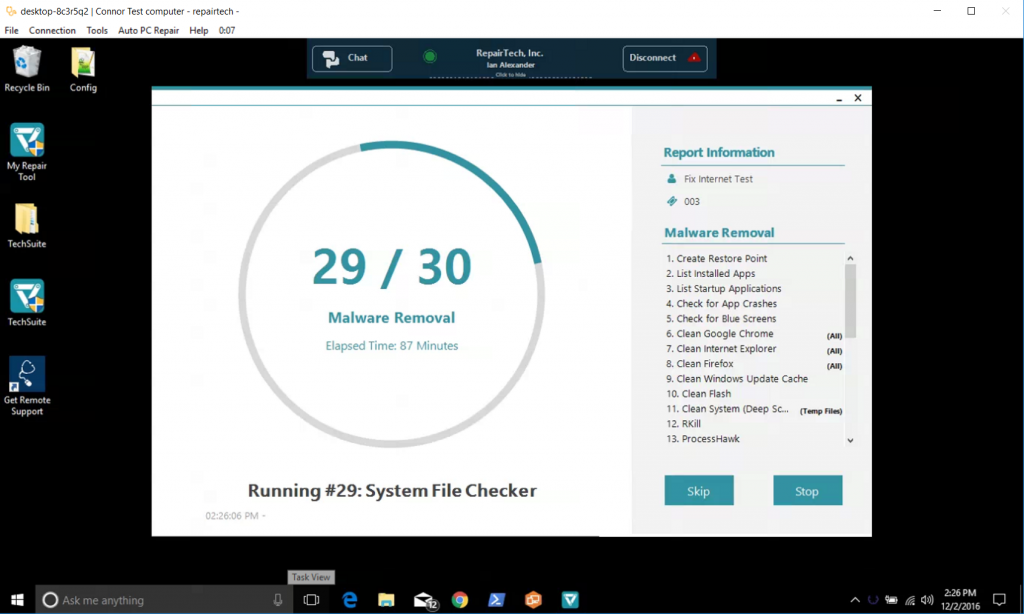 About Instant Housecall
Instant Housecall is remote support software that lets you control any PC or Mac through firewalls: On-demand for break/fix, unattended for any time access, plus time-window when you're on the road. Automate repairs with 100s of Windows and Malware fixes. Get sub-accounts you can sell to your customers so they can control their own PCs, and brand it top to bottom for your business.
Learn more about Instant Housecall

PC Repair Tracker Integration
We've released an integration with PC Repair Tracker! Now you can sync your TechSuite Reports over to tickets in PCRT. To enable this integration, you'll first need to contact the PCRT team, who will provide you with additional code to add to your PCRT instance. Then you can head over to the TechSuite Online Dashboard, and get it set up.


About PC Repair Tracker
PC Repair Tracker is a custom application written from the ground up for managing a small computer store and repair shop. With features like Tracking Repair Workflow, Built in POS, Support for Multiple Tax Rates, Email Invoices, Repair Reports, and Receipts, you can make managing your repair shop simple.
Learn more about PC Repair Tracker

Lots of great improvements eh? As usual we owe a debt of gratitude to all the great techs out there that provide bug reports and feature requests. Thanks!
If you have ideas or want to participate in the RepairTech community check out our Forums
For questions or to praise us, contact support@repairtechsolutions.com
Happy Holidays,
The RepairTech Team