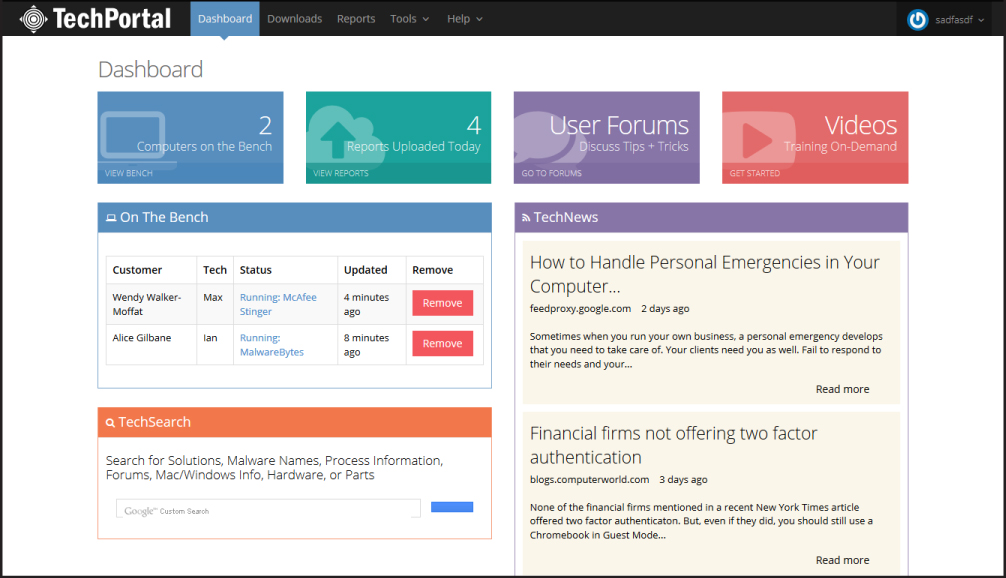 For the past month, we've been burning our eyeballs out in front of computer screens, drinking way too many freshpots of coffee, and developing mildly irritating cases of carpal tunnel syndrome in our wrists.
Why all the coffee and burning eyeballs? Its because we had to find a way to improve TechPortal for all the hardworking techs out there! Well, our determination and heavy caffeine dosages have paid off big time. Now we have a brand spanking new version of TechPortal and we can't wait to see what you think of it.
So what changed?
As you can see we completely redesigned the user interface, making it cleaner, more easily navigable, and more efficient for you to use. TechPortal is now fully responsive so it scales nicely to any screen size and even looks great on mobile devices.
Additionally, we've added more product tutorial videos, and added Tech Authentication so now each tech has their own authentication information.
TechWARU 1.4.1 
In addition to the new TechPortal release, Garrett has been stuffing his nose into the grindstone in order to release another version of TechWARU. TechWARU 1.4.1 boasts individual Tech Authentication among a host of fixes:
In TechWARU v1.4.1 we are proud to announce Technician Authentication! Each Technician on your account will now have their own Authentication code. No longer do you have to select which Tech is running TechWARU when it loads. Starting in v1.4.1 when you authenticate with your own code TechWARU will know which Technician you are and display this in place of the previous dropdown box. In addition to this we have added repair-specific information at the bottom of the screen and a "Sign Out" function to allow quickly switching between technicians on a repair.  Your authentication code can be found on the Downloads page of your TechPortal.
We also added the following new tools (pretty freakin' sweet):
   * Network Password Recovery  -> recovers all network passwords stored on system
   * PstPassword                 -> recover lost password for Outlook PST file
   * InstalledCodec                -> displays list of all Codec drivers and DirectShow filters
   * DiskSmartView                -> retrieves S.M.A.R.T. information from disks
   * WinCrashReport                -> displays Windows Crash reports in table format
   * WhatInStartup                 -> displays all programs that run at startup
   * DevManView                        -> displays devices and their properties in table view
   * NetworkInterfacesView        -> displays list of all network adapters/interfaces installed 
   * WinUpdatesList                -> displays list of all Windows updates on local computer
   * InstalledDriversList        -> lists all device drivers that are installed on system
   * CurrPorts                        -> displays list of all currently opened TCP/IP and UDP ports
   * WirelessKeyView                -> recovers all wireless network keys stored in your computer
TechUSB 2.2.0 
We've also deployed a new version of TechUSB. TechUSB 2.2.0 also has Tech Authentication.
See TechWARU v1.4.1 and TechUSB v2.2.0 Release Notes Here
We'd love to hear your feedback! Feel free to get in touch via email at support@repairtechsolutions.com