Kabuto 1.2.3 – Patch Management 2 and Bring Your Own Key

We've just finished another great update to quickly follow our recent Patch Management release. Many more applications have been added to the list of what you can now manage with Kabuto.
We've also expanded the functionality for Patch Management so that you can now install new applications to a client device. Installing new applications is outrageously straightforward. Simply go to the Monitoring > Managed Applications tab, find your desired application(s) and hit the install button. The app will be installed the next time Kabuto syncs and will be automatically managed by Kabuto after being installed.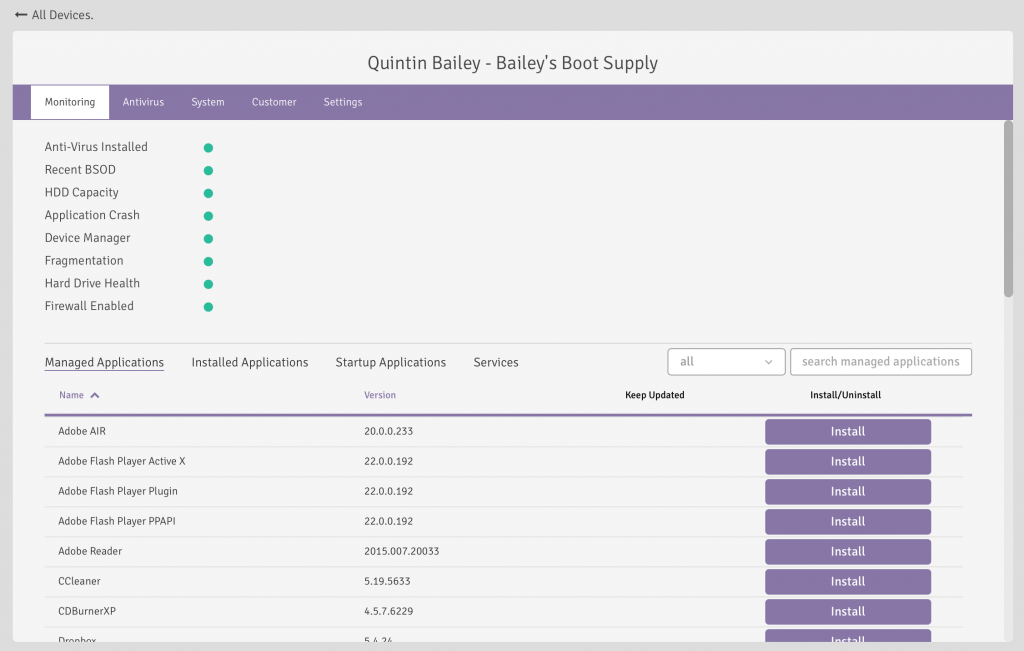 Here are just some of the newly added applications that Kabuto can manage. See the Kabuto documentation for a full list:
Adobe Reader
CCleaner
CDBurnerXP
Dropbox
Evernote
FileZilla
Foxit Reader
Gimp
Google Drive
LibreOffice
MalwareBytes
NodeJS
Notepad++
Pidgin
Steam
Sublime Text 3
TeamViewer
TightVNC
WinRAR
WinScp
Managed Antivirus – Bring Your Own Key for Emsisoft

Along with Patch Management, we've finished implementing improved functionality for Kabuto Managed Antivirus. You can now bring your own Emsisoft key for Kabuto Managed Antivirus. If you bring your own Emsisoft key, you can input it on install, and it will use that instead of one we provide. This lowers your cost from $2.00/month per device to $0.50/month per device.
This can be done via the Kabuto Installer, as well as the Kabuto Online Dashboard. If you use the bring your own key feature, you'll be able see the expiration date of your EAM license from the Online Dashboard.
Click here to learn more about how these features work
That's it for this release! Stay tuned. Cheers.