Ever since we released Kabuto, the common sentiment has been: 'Kabuto is great so far, but when can I obliterate malware with it!?'
Well, today we're proud to announce that we've released Kabuto Managed Antivirus! Now you can annihilate viruses and malware to your heart's content.
Let us begin by saying how grateful we are for our awesome beta testers. Thank you! We also want to give a huge thanks to Emsisoft for helping us make this happen.
Kabuto Managed Antivirus Powered by Emsisoft Anti-Malware
We have been very lucky to partner with Emsisoft to allow you to use Kabuto in conjunction with the best all-in-one antivirus and anti-malware solution on the market. Emsisoft Anti-Malware (EAM) comes with a Real-Time File Guard, Behavior Blocker, and Surf Protection, and is designed to use as few computing resources as possible.
During the planning phase, we reached out to the tech community regarding our partner of choice; Emsisoft was a clear favorite. After seeing nothing but great reviews, talking with techs, and collaborating with the Emsisoft team, we became very confident that EAM is the type of quality product that techs will love as they continue to use Kabuto to service their customers. To see results from the tests Emsisoft has participated in, click here.
How to Get Started
If you navigate to any device on your Kabuto Online Dashboard, you will now be able to enable Kabuto Managed Antivirus.
Once enabled, Kabuto will install EAM automatically on next sync. To force an install immediately, simply restart the computer. Once EAM is installed, the Kabuto Online Dashboard will enable you to:
– Get notifications when the computer is not properly protected
– View scan logs
– Schedule regular scans
– Receive alerts when threats are detected
– Ensure EAM is always up-to-date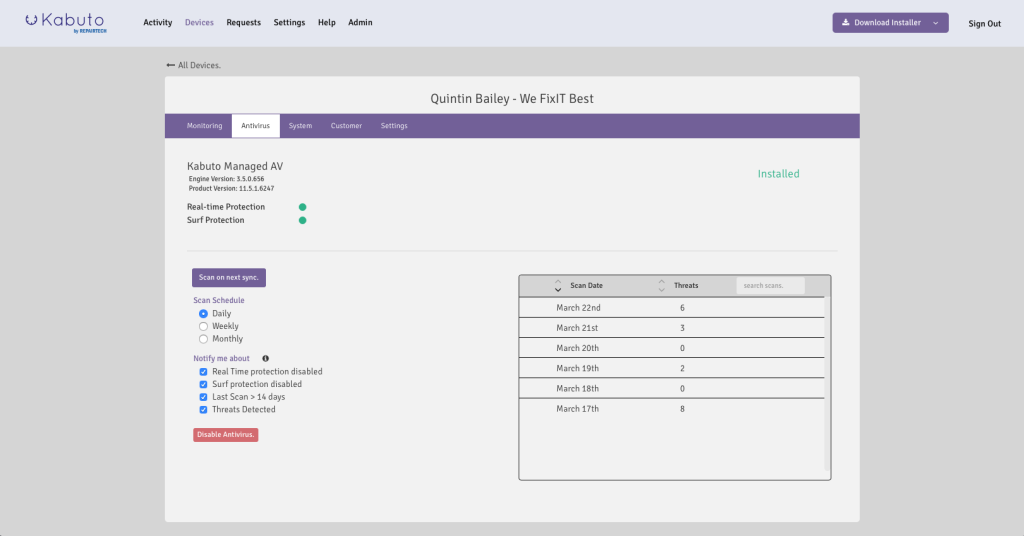 Kabuto Managed Antivirus Pricing
Pricing is simple: $2/month per device. As of today, all Kabuto accounts have been given 30 days to try Emsisoft on unlimited devices at no cost!
About Emsisoft Anti-Malware
Emsisoft Anti-Malware is fueled by a dual engine malware scanner for twice the malware cleaning power, with no extra resource requirements. Emsisoft detects and removes all forms of viruses, spyware, worms, Trojans, rootkits, and other malware. The system checks all files that are downloaded or run against more than 10 million signatures of known malicious software.
About Emsisoft

Emsisoft is a global anti-virus and online protection company that has been in business since 2003. They offer some of the most innovative anti-virus and anti-malware features and have consistently performed very well in independent agency tests. All of this has allowed them to grow quite rapidly, with more than 6 million people and businesses having successfully used their products. Click here to learn more about Emsisoft.
Helpful Links

Kabuto Managed Antivirus Documentation
All Hail the Programming Technomancers
Before we sign off, we must honor our programmers for their hard work. They mercilessly hacked their keyboards into tiny clouds of atomized plastic in order to get this done.
Praise be unto thee: Stephen the Almighty (aka the MAV Slayer), Garrett the Nocturnal Codehammer, Justin 'Lord of Bitcoin and the Shadows' Culbertson. We can't thank these chaps enough for their hard work, they really did a smashing job!
Special shoutout to Michael Treasures yon Customer Truthsayer, Connor the Prophetic Harbinger, Erik the Textbook Defeater, Zach the Thumbdrive Shepherd, and of course, Ian the Fearless Leader (Fair and Bold).
That's it for now. We're really excited to hear what you think of Kabuto Antivirus, and as always, please reach out if you have feedback or questions. We love talking with the tech community!
To get in touch, contact us at support@repairtechsolutions.com or give us a ring at 805.242.0468
Cheers,
The RepairTech Team