Well, Ladies & Gents, it's finally here! We're excited to announce that you are now able to remotely connect to client machines directly from Kabuto! We're calling this new module Kabuto Live. Kabuto Live is currently in Beta.

Say goodbye to the days of having to integrate with other Remote Access tools to complete remote jobs, and hello to the simple "Kabuto Live" button available on all Kabuto Devices!

Kabuto Live contains everything from Remote Access, to Remote Task Manager, to Remote Command and/or Powershell Prompts and more.

This is an oft-requested feature that techs have waited (very patiently) for, so we want to give a big thanks to the techs who have been supportive of Kabuto and helped us get to this point. We couldn't have gotten here without you!

Also, our dev team deserves a huge shoutout. To build Kabuto Live, we had the dev team shipped off to a hidden subterranean location with freeze-dried rations, WiFi, and some very potent coffee and didn't let them leave until they finished this feature 😉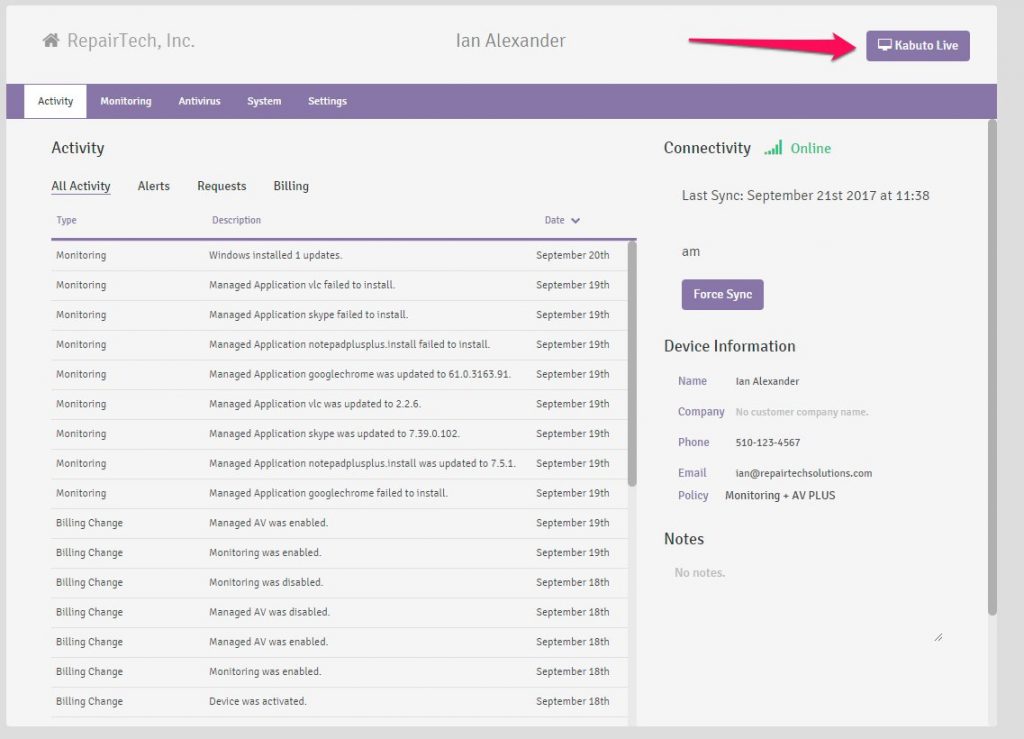 Here's What You Can Do with Kabuto Live:
Remote Access for all Kabuto Devices




Simply click the "Kabuto Live" button from a Device and start your remote session. Multiple monitors? No problem. We support it 🙂

Live System Information and Specs




View various real-time hardware info from the System Information tab inside of Kabuto Live.

Filesystem Browser with File Upload Functionality




Upload, view, and search for files on Devices remotely via the File System tab inside of Kabuto Live.

Remote Command and/or Powershell Prompts




Start a remote command or powershell prompt from the Terminal tab in Kabuto Live.

Remote Task Manager (Process Management)




Use the Remote Task Manager tab to start and kill processes, and see CPU & RAM usage.
How to Get Started Using Kabuto Live:
Log into your Kabuto Online Dashboard, head over to any Kabuto Device, and click the "Kabuto Live" button. Follow the prompts from here!
Here Are Some Additional Resources:
Kabuto Live is an optional paid upgrade, priced at $19/month per tech for unlimited Devices, with a free 30-day account-wide trial. Each tech can use it as much as they want, and it's accessible on all of your Kabuto Devices.
We hope you're as excited about Kabuto Live as we are, and we look forward to hearing your feedback!
Happy Repairing,
The RepairTech Team