We've had countless requests from customers for the ability to use TechWARU within a Windows Preinstallation Environment. Today we're happy to announce that after months of development, and working closely with our friends over at TekTegrity, we're releasing an amazing add-on to TechSuite, TechWARU:PE Beta. 
Use TechWARU outside of Windows
Using the brand new TechSuite Creator, you can easily make a 32-bit bootable environment based on Windows 7. It will even download and inject the newest version of TechWARU into the environment for you, enabling you to run all your favorite Windows repair utilities without interference from nasty malware or corrupt boot sectors.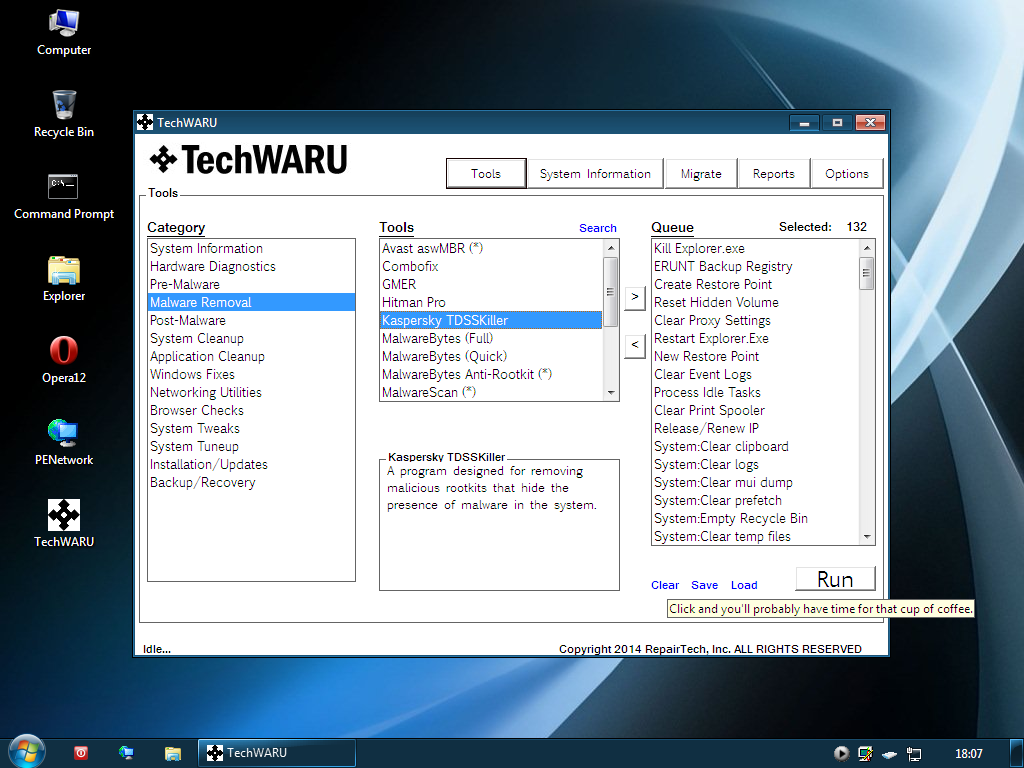 Why this is a big deal for IT Companies: Remote Access Integration
It's fairly evident why TechWARU is significant for typical bench repairs. You get a bootable Windows-based environment to run all your favorite tools in, void of interference from malware, corrupt system files, missing registry keys, etc, and the added benefit of a framework like TechWARU to help you with automation and reporting. However, we took it a step further with TechWARU:PE by enabling you to upload a Windows executable of your choice to your TechPortal. Each time you run TechWARU in a PE environment, it will download and run that executable. Most RMM Solutions, like Kaseya and Labtech, provide you with an agent executable you can run in order to gain remote access to a computer. By uploading that executable to TechPortal, you gain a way of remotely and effectively repairing computers, hopefully saving you from having to send a technician into the field.
Save time by fixing more issues remotely
To reduce the number of on-site trips you make, simply leave a few TechWARU:PE USB drives with your clients. When they have issues that would normally require you to go visit them, you can instead talk them through booting into the USB drive. The remote agent executable downloads and runs, and boom, you have control over the computer in a fresh environment. Your client gets their computer fixed faster, you save time and travel expenses, and can get back to what you were doing. For IT Companies who charge flat-rate fees for their services, this can dramatically reduce cost and boost technician efficiency.
Functional Beta. Contact us with any feedback!
TechWARU:PE has been tested and is functional, but its possible there will be some subtle issues. Please contact us if you come across bugs or have additional feedback!  Feel free to get in touch via email (info@repairtechsolutions.com) or phone 805.242.0648 (9am-5pm PST).
How to get started with TechWARU:PE
You'll find the new "TechSuite Creator" on the downloads page in your TechPortal, and instructions for using it on our all new wiki.